Home » Posts tagged 'walmart'
Tag Archives:
walmart
Unenforced and inadequate laws allow a surprising number of employers to regularly steal billions of dollars from their workers by paying below the minimum wage and ignoring their responsibility to pay for overtime hours. Probably the most famous example is the $352 million settlement Walmart paid in 2008. Four years later the Department of Labor forced Walmart to cough up an additional $5 million for misrepresenting 4,500 workers as exempt from overtime pay.
It's a cautionary tale for those of us who want to enact legislation to prevent workplace bullying. ProgressiveStates.org analyzed the hodge podge of  laws and regulations to protect workers from "Wage Theft" already in place and ranked these polices on a state by state basis. New York & Massachusetts ranked in the Top 2 – with the rest of the states receiving barely passing or failing grades. The analysis shows that: "until the odds of being penalized are increased and the consequences of violations become substantially greater than the financial rewards of wage theft, there will be little reason for dishonest employers to change their behavior. Combined with the meager capacity for agency-based enforcement documented in other reports, weak laws virtually guarantee impunity for unethical employers." Trying to 'prod' employers into doing the right thing by providing a "carrot on a stick" clearly isn't working and it can easily be surmised that the same will be true if templates to protect workers from abusive work environments aren't given real teeth. Typically minimum wage workers have few resources to hire and attorney so without an agency in place to enforce regulations employers continue to cut corners by shortchanging their employees. (more…)
During the recession many of us had to take hits to our paychecks to help businesses and state agencies stay afloat.  This Merle Haggard song goes out to all the organizers trying to force a live-able wage from major corporations. CNN reports: "McDonald's, the world's largest hamburger joint, hasn't fared so poorly. Last year, sales increased 12 percent. The largest U.S. retailer Wal-Mart hasn't done so badly either. Even at the height of the recession in 2009, the company's sales rose 7 percent." Dear Walmarts – if you won't share the pain then at least share the wealth!
Related articles
Walmart CEO Michael Duke's $35 million annual salary constitutes an hourly wage equal to the annual salary of the average Walmart employee. — Jonathon Turley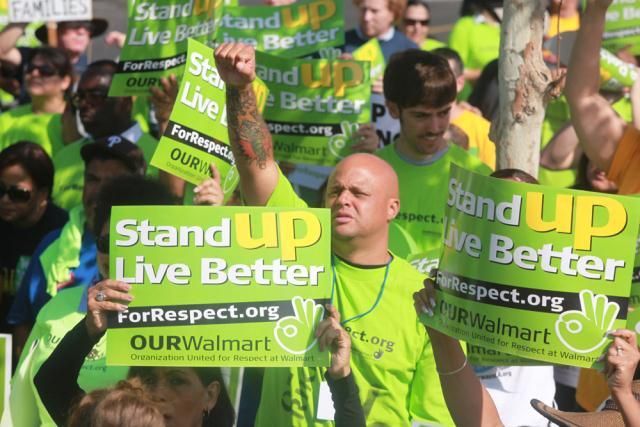 Walmart tops the "leading retailer by employment chart" with over 2 million employees — next on the list is Target with only 365,000.  Today Walmart workers will go on strike to demand fair wages among other issues. A study by Demos reports that "Retail jobs are a crucial source of income for the families of workers in the sector, yet currently more than 1 million retail workers and their family members live in or near poverty.3 More than 95 percent of year-round (more…)